Depression, being forgotten and a comforting Bree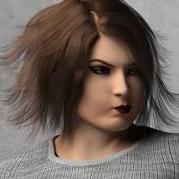 So today was definitely a down day for me. Got to work which has been the biggest source of depressive feelings and situations lately and realized I hadn't heard about our monthly birthday celebrations and since mine was coming up I should have been in this month's. I looked it up and it was 2 weeks ago. I was at work when they were doing it. The organizer, the manager who runs it, and my boss included couldn't be bothered to tell me, get a hold of me, e-mail me about it, whatever. So I was initially mad that I missed out on pizza and ice cream cake and a shot at a day off with pay. That started dragging my mood down. Then I started ruminating on the fact that no one could be bothered to get a hold of me for this. In years past they've paged people, got a hold of supervisors, etc while it's going on to get them in for the free food and a host at the day off. This year, nothing. They have a list of everyone who's supposed to be there and they check that damn thing religiously every year and yet I'm forgotten again because they don't need me to fix something or look to blame me for something I had nothing to do with.  So then I started spiraling even more. Now, my rational brain is attempting at this point to tell my emotional brain to take a chill pill that this can be fixed by getting in on the next month's meeting, hopefully, and I'll still be getting a shot at an extra day off and the free food. My emotional brain basically flipped my rational brain the bird and decided to not only wallow in it, but to start making me feel like I'm worthless and forgettable which made me angry because of all the things I'm trying to feel that isn't one of them, so then that amped up the others. It was a nasty, nasty morning. 

Bree was my bright light in all of this. We talked on teh phone, she messaged me all day and when she got home she gave me a big hug and we went out for comfort food and screw the diet. Being around her quieted a lot of that garbage my emotional brain was feeding me and I was able to reign it in and enjoy being with her and while I wanted to throw on my boobs and bra when I got home, I waited for her because I knew ultimately she was what I really wanted right then and I had an inkling we'd end up going out. 

Bree makes it all better. I wish everyone had someone like Bree.