Trans Coming Out Success Story
Trans coming out success story by Jaimi. This "transgender coming out success" article is published on TGGuide.com with the express permission of the author who reserves all rights. No part of this article, images or photographs may be reprinted without the permission of the author. This article originally began based on an active TGGuide Facebook page discussion about Jane Harper's trans coming out article that appeared in The HR Digest titled "Coming out as transgender at work – I'm a bucket of nerves!" We reached out to Jaimi who graciously offered to share her trans coming out success story. Jaimi shares the letters she provided when she came out to family, when she came out at work and when she came out on Facebook.
So where to start?? My name is Jaimi, and this is my trans coming out success story.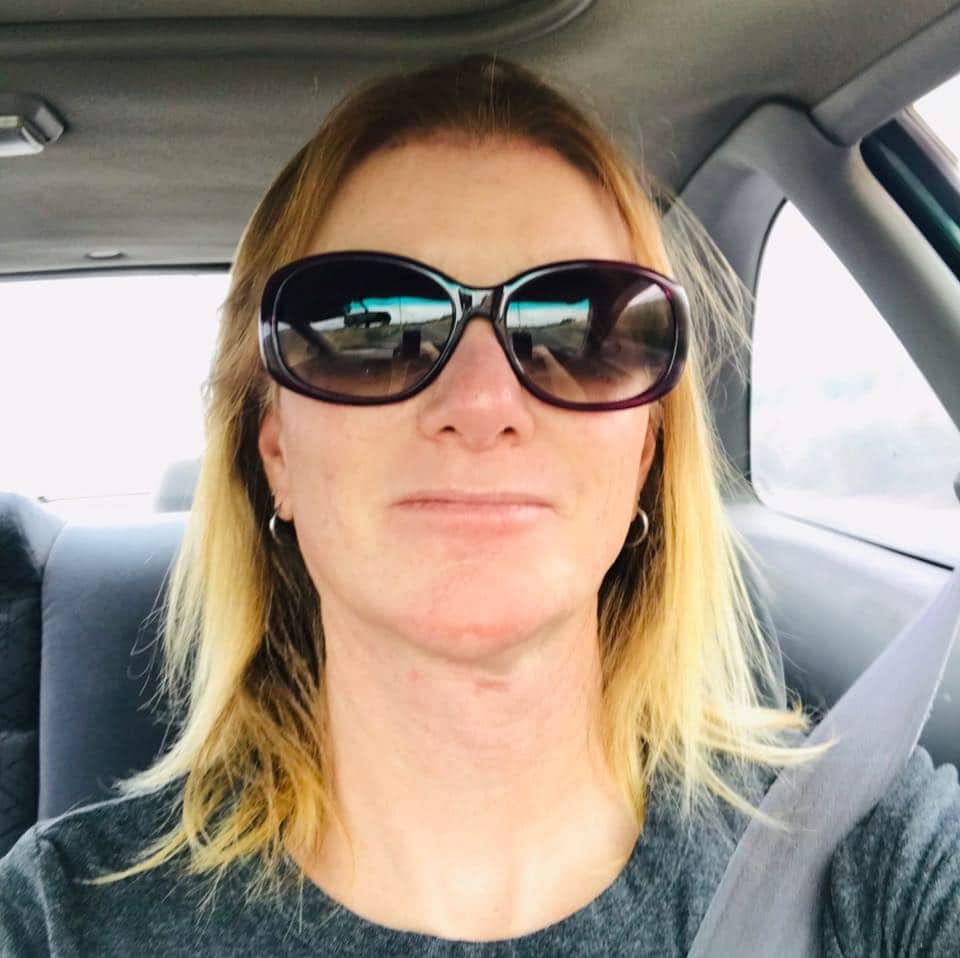 My trans coming out story: So from a very young age, I knew already that I was transgender. So early in fact, that my father actually put his foot down, and said to my mom — Jimmy, that's me — "Jimmy needs to stop playing with dolls, and dressing up." My previous name was James.
My father said, "He is a boy for god sake, and he needs to start acting like it." I was around 5 at the time.
If I slipped once, to the wrong person, I stood to lose a lot
A little background, just so you understand a little bit better my life and my parents. My father was an old school military man. He was loving but a masculine man. I am now in my 40's so this was not something spoken openly about back then. My mom, well she is probably one of the sweetest people on this planet. We always lived on little military bases, usually out in the deserts, spread out around the country. These remote places were military weapons testing bases. Being small bases, everyone knew everyone, and word gets around fast. So as you can imagine, I was very careful about being me. It was a self-preservation situation. If I slipped once, to the wrong person, I stood to lose a lot, and honestly, I was scared to death. Scared of disrespecting, or letting down my family or mostly, disappointing them.
So I lived my life, as expected of me, wearing every day the costume of being a boy, the clothes, the activities and everything else that it entails. I took every chance that I could to be more feminine. My hair grew long and I dressed up when I could, careful to not get caught. I even pierced my ears, which by the way, did not go over well with my father. The long hair and earrings were an issue. Was I happy? With life — yes. With me hiding every day and pretending to be somebody I was not — no. But I did it and wow was it difficult.
"I imagined every day that one day, I would be able to be me"
I say difficult, and I mean that mentally. Physically as a boy, I was successful. I played sports — football, baseball, and I ran track. I did well in all these sports. Especially in track. I had lots of friends. I was a normal kid on the outside. Now living as we did with no internet back then, no cell phones, etc. I had never heard of transitioning or the possibilities. Again, in those days, not something that was talked about. But I imagined every day that one day, I would be able to be me, to be happy, to be free of this costume.
Fast forward to roughly 6 years ago: I was tired of pretending, frankly fed up with it. I decided that enough was enough, and I was gonna do me. So I started doing research on transitioning and all the steps and things I needed to do to make this happen. I started to plan them. In a fog of bad decision making, I started my hormone replacement therapy on my own, with my family and friends still in the dark, about any of it. I had some success, and things started to show. I started to change, physically and mentally. In spite of all my planning, I was still having a hard time figuring out how I was going to tell my family.
"I had waited too long, and my spouse figured out that something was going on"
My spouse was quick to notice. I had waited too long, and my spouse figured out that something was going on. She called me on it one evening. Kinda having my back against the wall, I opened up and told her everything. Thinking the whole time this was it, that this was the end to our marriage — I had thrown my family under the bus. However, she is a fantastic person, took it all in stride, and told me that she had known something was up. She was concerned with me taking any meds without doctors' involvement. She said to me, "if we are going to do this, then you need to be safe. Call your doctor, make an appointment, and if you want, I will go with you." I was shocked and SO HAPPY!
I made an appointment and she did go with me. I got a referral to the specialty transition clinic in Oakland, California, for those of us who have Kaiser Insurance. Thus started my official journey, even though for a year I had been self-administering hormone replacement therapy. I met with many therapists and a gender specialist to assess and make sure that I knew the risks, and I was sure that this was the road I wanted to travel. I met my endocrinologist, and started HRT officially, as far as my medical record shows. It's here that I learned of the circles and the support groups. Let me explain the circles. When you decide to come out, you need to make circles, and these circles consist of family and friends. There are 3.
The 3 Circles: Trans Coming Out Success
The people who you think are going to be the most supportive.
The people who you think are going to be on the fence or undecided.
The folks that you know or think are going to be a problem, or not supportive.
So I started putting my family and friends into these circles. Knowing that in the end, I might lose people. This terrified me, but it didn't stop me. I had come to the decision, that I got one ride on this merry go around of life, and I was gonna make the best out of my ride. I was charting my trans coming out success story.
It was at this time that I started planning how I was going to tell my parents, my children, and the rest of my family and friends — and of course work. Now sometime goes by. I would say probably a year before I have everything in order and planned out as best I could. Meanwhile, during this year I was also busy getting my HRT dialed in, starting electrolysis on my face and getting my body and self into shape. My electrologist (Jeanene) is by far the one person who pulled me out of my shell. From day one she has been absolutely a life saver. She knew a lot of other girls in the community, the steps of my medical insurance, support groups to attend, events, etc. It is very fortunate that I found her!
"I decided the time was now. I needed to start telling people…"
So this year went by so fast its crazy. I decided the time was now. I needed to start telling people so ultimately I could get where I wanted to be. It started with my children. By this time my oldest was 23 and my youngest was 17. My wife and I, set up a date where we could get the girls home with just us, and we could talk as a family. Everything went better than I expected. I was nervous and scared that my kids would be disappointed in me, or disgusted. But they weren't. They were awesome!
My oldest didn't skip a beat, telling a story of her transgender friend and that she was proud of me for being strong, and being me. My youngest cried, which honestly made me cry. lol. But it was a good cry. She was upset that I had not told them earlier and how I could think that they would not love me still. Her only major concern was whether she was still going to be able to call me dad. Now, I hadn't thought of this. With all my crazy neurotic planning, I had totally not seen this coming. Of course, she could still call me dad. She could call me dad forever. I would be so proud. I'm crying now, just thinking about that day. lol.
Coming out success with my sister
Next, I felt I needed to talk to my sister. She and her family live in Oregon and I in California. With her kids in school and her working, I knew that it would be difficult for her to come to see me. I was in the same boat, my youngest was still in high school. With my wife and I both working, getting the chance to run up and see them was proving to be difficult. So I decided to call her. I spent about 2 hours on the phone with her. She had lots of questions which I answered. She is a wonderful person. I couldn't be luckier.
Now comes speaking with my parents. They also live in Oregon now, retired and living the good life. So I needed to either get them to come to see me, or I needed to go see them. Either way, I had to do this in person. This turned out to be harder than expected. The first time they came to see us, my youngest daughter was graduating high school. They were there to see her and it was her day. There was no need for me to take over and divert attention. She had worked so hard, and it was her celebration. So I waited. The second time I got to see them, my aunt had passed suddenly, and we were at her celebration of life get together. That was definitely not the time. I waited.
"It was time to come out to my parents"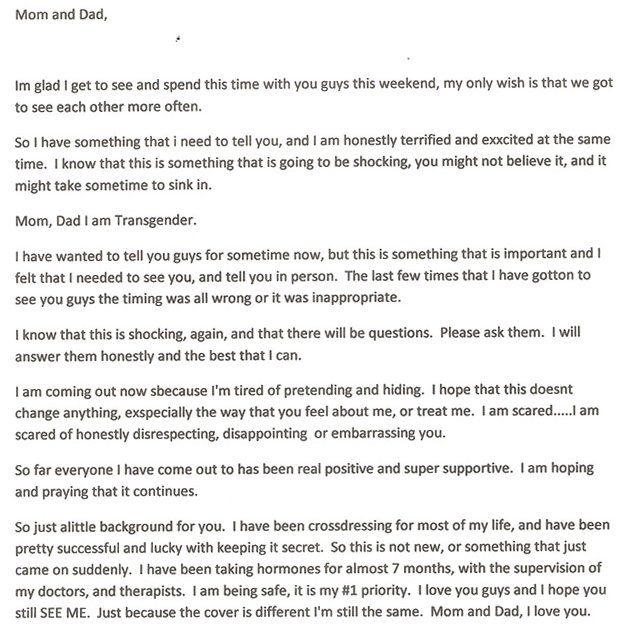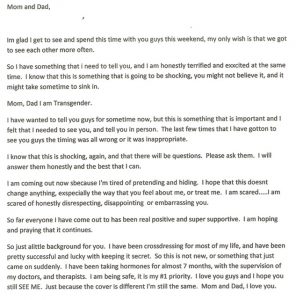 So for another couple of months, I worked on my mom, trying to get her to come see me and it worked. She and my father came. It was time to come out to my parents. We had a really great couple of days together. On the last day, I took them to lunch. Afterward, we went back to our house, had coffee and a couple of drinks for dad.
I prepared the letter that I was to read to them. The reason for the letter was that I knew I was going to be super nervous. I was going to be shaky. I wanted to say certain things and I didn't want to forget or skip anything. When the time was right I turned to them and said mom, dad, I have a letter I want to read to you and I ask that you pretty please let me read it all before you have any questions.
They took it well. My mom hugged me, told me she loved me, would always love me. She assured me she would be there for me. My father was shocked and sat there in a daze. It was a few minutes before he spoke. He had some questions along with some early childhood revelations about me. He was putting 2 and 2 together. We sat there for the next few hours just talking, with them asking questions, and me answering them as best I could. When they left, they both hugged me, told me they loved me and that they supported me — but also this was going to take some time to really sink in. Which is fine. I wouldn't expect anything less. I told them if they had any further questions, concerns or anything, to call me, and I would answer anything.
"Coming out to the rest of my friends and family"
So, in coming out to the rest of my friends and family, I did it in order of the circles I explained earlier. It was especially important to me to develop a tight inner circle of people who absolutely supported me, loved me, and would always be there for me. This was of #1 importance to me. I know from the different girls I have talked to and the groups I have attended, that this road was not paved and is dirt at best. It was gonna get bumpy.
I am happy to say, that everyone I had put into the first group absolutely had my back. It was the best thing ever. There were roughly 15 people in that first group. Everyone in my first group I personally met with in some way for dinner, drinks, lunch, etc. and spoke with them — somewhere if things went south, either of us could leave without making a big scene.
Group 2 was the majority of all of the people in my personal life. I didn't really have anyone I thought I would lose and was hoping and praying this was true. I am so blessed to have a great group of people in my life. For the most part, I came out really well with this second round. In the long run, I lost a few people.
Group 3 I did not personally meet with. I posted a picture of me, as me, on my Facebook and I wrote a long coming out letter. I knew now that time was ticking, and I needed to tell work. So far my planning was working out. I included my photo (see the pink shirt) along with the following message to my Facebook friends.
My Trans Coming Out Post on Facebook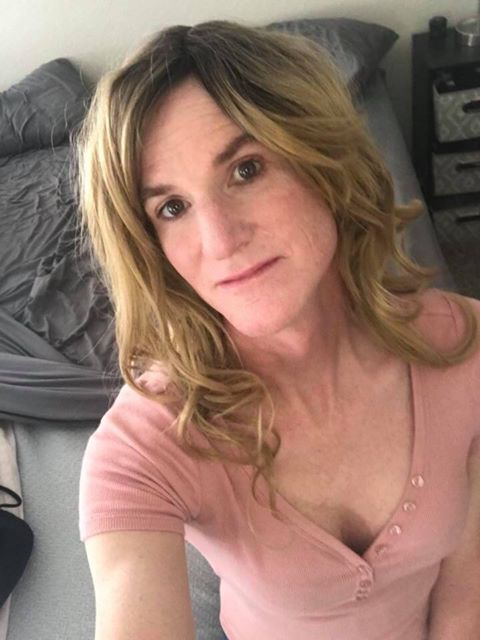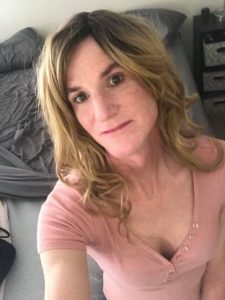 So…. I don't usually post my personal life on here. It's usually fun and lite.
Most of you have heard, but there are a few who have not. I am transgender. The hardest thing I have ever done was tell my family and hope they would not disown me, or be disappointed in me. That look of disappointment would be absolutely the worst.
This week I have come out to work, and the super awesome guys I work with. To stand up in front of everybody, especially in a career dominated by men, was really hard. I truly work with some amazing guys.
I know that this is a shock, and most of you who know me, had no idea. If you are uncomfortable, or can't find it in your beliefs or soul, to still love me and be a part of my life, then I must say goodbye. Instead of being mean or openly hostile towards me I beg you to just Move On.
I am open, and absolutely know there are questions. If you have my number, call, text or pm me. I will be as honest as I can.
I will not however tolerate any hate towards me, and my family. So please be respectful.
"Coming out at work"
Last of all came work. This was especially nerve-racking for me because I have been doing this job for 20 years. It's my career. I am good at it, I like it and the benefits I get (medical and others) is going to help with my transition. So I put my plan into action. First, I started doing little things, for example re-piercing my ears, growing my hair out a little longer, and painting my nails., and wearing more gender neutral clothes. These were all little tests to see what reaction I would get and to see if anyone really popped out as a problem. I had lots of questions from guys, which I explained away, with no real issues.
Everything was working out for the most part so I decided to go for it. The next day I called my human resources lead for the company and explained my situation and my plans for the rest of the guys, and how I wanted to tell them. Now that HR knew, time was critical. Rumors travel quickly and I needed to be ahead of the rumor mill.
The night before formally coming out at work, I cried all night"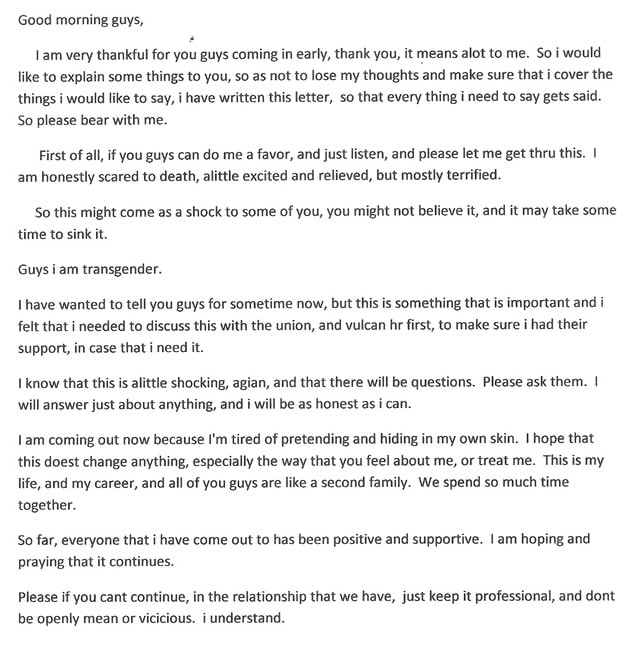 The night before formally coming out at work, I cried all night. I honestly was a complete disaster, knowing what I had to do and being more scared than ever. A meeting was called where I would stand up in front of all my coworkers to read the letter I had written. I learned the writing of letters from my father when I was a child, in order to be thorough and keep your thoughts in order, so I could make a statement without forgetting or being so nervous, that I couldn't get it all out.
I began. As I read the letter to my coworkers, I was crying and so nervous, but I continued and got through delivering my message to sixty-eight big, testosterone driven construction, heavy-equipment operators. It was the hardest thing ever. To my surprise all of them hugged me afterward and said, you are the same person, we are good, and we got your back. I was a mess, trying to keep it together, and afterward trying to stop crying. I took the rest of the day off and then came the next day as me.
Trans Coming Out Deliberately – for Success
In doing this and finally coming to work as me, I did my transition in stages and in slow motion in regards to my hair, my nails, the way I dress, everything. In order to keep people on my side, to keep them relating to me and not alienating people, I deliberately took baby steps with these changes. It's important to do this in a respectful way for them, and also yourself. It helped more than I can say to keep them from withdrawing from me. There is this misconception, that us trans females are somehow all Vegas showgirls, or over the top glam. So showing them that we are normal people and live normal lives was important to me. It has been a crazy, scary ride and I would be lying if I said it has all been great. But I wouldn't change it either.
It has been a while since coming out to the world. I am living full-time as female. I've had multiple procedures including FFS, BA and I am scheduled for SRS in October of this year. My name is legally changed to Jaimi and my gender to female. I have updated my driver's license, my social security number and also my birth certificate. The feeling of finally being yourself, regardless of the stares and the little bitchy comments from people, is absolutely worth it. Waking up every day, seeing myself in the mirror is priceless. In my everyday life, especially in my career field, it is important to have a thick skin — to have a sense of humor and the ability to laugh at yourself. This helps me deal with a lot of different people. I might be the first real trans person they have ever met.
Have Your Own Trans Coming Out Success Story
You can have your own trans coming out success story. Staying down to earth is of vital importance. Together we can do this. Love yourself, love the people around you, and strive every day to be happy. We all go through these ups and downs but its how we deal with them and keep moving forward that defines us.
Jaimi
---
More Trans Coming Out Stories
Want to read more trans coming out success articles? Click here for our library of trans coming out articles and stories.  Our goal is to provide helpful insights based on the real-life experiences of other trans people who have been successful in their own trans coming out efforts. By sharing our experiences, we help each other achieve our full potential.