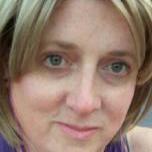 So, I asked a friend (cis-woman) if we could do lunch on Saturday - just said for now there was something I wanted to talk about. I plan to "come out" to her as transgender.
It feels a little anti-climactic, after all she already knows I cross-dress and not for fetish reasons. But, outside of my therapist she will be the first person to whom (yes, i'm trying to keep "whom" alive!) I will have self-identified as trans.
To me I think the big thing, besides actually saying it out loud, is thinking about how to explain what it means in my life. She won't be judgmental at all, she's awesome and totally supportive of pretty much everything, but it is a conversation and I'm sure she'll ask follow-up questions.
Luckily i'm off work tomorrow, so I have time to think

On another front, I fully merged my wardrobe tonight - I no longer own "mens" clothes and "womens" clothes, I just own "my" clothes.
Hope all of the Christians out there have a lovely Good Friday, and happy Passover to all Jewish members! And a belated Blessed Ostara to any other Wiccans in the room!