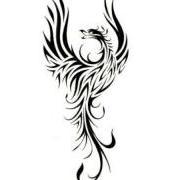 I'm not gay. Someone once asked me if I was, having spied the rainbow-coloured bangle that I kept hidden under the sleeve of my shirt. I laughed nervously, shoved the bangle back up my arm and replied, "If only it was so simple." That's not to say that being gay is simple. It's just that, sometimes I think that being gay would be simpler for me. I am attracted to women and men. I am attracted to people. I fall in love with people. I used to think of myself as pansexual, until I read a definition of that term which made me wonder if that was what I really was. I don't like men and women equally. I prefer men to women - physically speaking. I'm attracted to both, but I'm more attracted to men. Emotionally speaking, I'm attracted to all areas of the gender spectrum. I can fall in love with men and women, and people who land somewhere in between. How do I know this? Because I have.
The physical attraction to the gender spectrum definitely leans towards the male form. But that hasn't always been the case with me. When I was younger, much younger, I was almost exclusively physically attracted to the female form. Or, at least, I told myself that. Over the years, that has changed. Today, far more often than not, it's the male form that catches my eye. So what does that mean for my sexuality? It's often easier to refer to myself as bisexual even though I don't believe that term really applies to me. People seem to "get" bisexuality a lot easier than other terms such as panromantic or pansexual or poly-something-or-other, or all the other terms that people use to try to define themselves and each other. Although, a lot of people don't "get" bisexuality either.
So when it comes down to it, I'd rather not label my sexuality. But what I do now label is my gender identity. I am transgender. And I always have been, even if I denied it to others and to myself. I'm not gender-fluid. I'm not non-binary. I know what I am; what I have always been, even though for too many years I pretended it wasn't the case. My body is female but the rest is not. And it's not the case that sometimes I feel female and sometimes I feel male. It's not the case that sometimes I feel like I don't fit into either sex. I know what sex I'd rather be. What sex I should have been. I have never felt female. But I was given a female body.