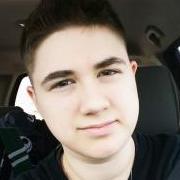 Entry posted by WarrenG ·
480 views
Whats all ya'll, hows it going? Not too much going on over here, pretty uneventful which is pretty good considering what could be going on

 Though I'll admit that this week has been pretty harsh on me for somewhat unreasonable reasons. Death of celebreties usually ends up being over publisized and over thought of and etc, and a lot of people just get so sick and tired of hearing about a star who passed away. But to people like me, who never really attached themselves to people near them and instead bonded to people on the screen as their imaginary family, hearing about these things can be very upsetting. The day Robin Williams died, I probably cried for three days straight. When my father passed away, Robin Williams was my rock. He was my world, and he kept me from self harming so many many times that when he died, a part of me died. Knowing that he'd comitted suicide also was a huge kick in the face, knowing that a man who helped so many many people somehow forgot to help himself in the process...I'm not over it. I'm still not over it. Robin Williams meant so much to me, even if we never met. To this day, I still cannot watch any films with him in it. It just hurts too much....
Heath Ledger, a man who taught me courage and probably the first person I ever had a crush on. A man who I admired greatly and memorized all of his lines for almost all his movies, capturing his audience in all that he did. Especially when he took the bravery of taking on a role in Brokeback Mountain, which was a huge thump in my heart considering I was battling with my own sexuality...Seeing that he voiced his opinion about it, that it was NOTHING to be afraid or ashamed of....as odd as it sounds, it helped. He was like a big brother to me.
And now..David Bowie and Alan Rickman. David Bowie always made me feel good. A huge LGBT Advocate and shameless spokesperson, not to mention a brilliant artist and actor. And the most haunting part is that when I was reading on my phone that David Bowie had passed away, I was at work on break and started to cry. And what made me stop crying and stare in shock and admiration, was that in that instant--my ipod (which was on shuffle) went to David Bowie's song "Within you".To this day, it gives me chills. I know I will always miss him greatly, but it is a different kind of sadness. I know he was suffering from cancer, and that he can now be happy and free. He's probably having the best possible time up there, jamming with Freddie Mercury. I'm happy that he's been set free at last, but sad by his departure. And now, Alan Rickman has passed away from cancer as well. A man I always looked up to as an uncle. An extremely misunderstood Professor Snape (Harry Potter). A very sad and lonely Elliot Martson(Quigly Down Under). A greedy but loveable Judge Turpin (Sweeney Todd) .A robber, a villian, a hero--the roles are endless. 
Justin caught hold of something interesting though. Alan Rickman died at 69 years old to Cancer, a few days after his birthday.. David Bowie at 69 years old to Cancer, a few days after his birthday. Lemmy from Motorhead at 70 years old, also to Cancer. It's nothing too phenominon, but it certainly caught our attention. Bad news always comes in threes. I hope this is true, and that we're finished with such bad news so early in the year...at least for a while. My heart aches for their families and fans..
That's all for now. I have another subject I'd like to talk about, but I'll put it in a seperate posting.
Your bud,
Ren