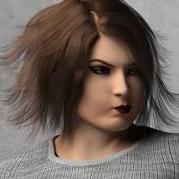 Bree got me thinking after we talked and got into an argument because I'm over-reacting and not understanding like normal and maybe I am being a guy about all of this in how I relate to her. It's not easy on her, my either misunderstanding or complete lack thereof making her incredibly upset and now that we've talked more she made me realize I'm either coming across as being incredibly selfish or am incredibly selfish. I am being selfish on a lot of things in this. Yes there are some things that I'm trying not to be and I've realized I'm putting Bree through a lot and he's been amazing and I am being pretty negative about things. I don't know if that's the depression or if I've always been this way. Either way this isn't fair to her.

These past few months have really been all about me and while we've touched on her issues a bit I've been way too focused on myself and that's not going to work. We're in a relationship, a damned good marriage with only a few issues (admittedly this is a big one) and I'm here lighting a fuse that I really don't want lit. 

Bree's so damned strong with most anything that comes her way, or always comes across that way, and we muddle through everything else together so much that I can really be an ass and not register how much she's hurting or underestimate the toll it's taking on her even when it's smacking me in the face. For a smart person I can be really dumb.