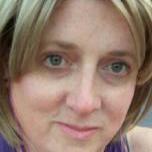 Hi all,
It took me a little to figure out how to get my pics on here (apparently I can't do it on my phone, it has to be on a computer so that I can resize the pics).  Below are three pics - two of them show the top that I wore for Pride - they gave us the t-shirts for marching with NYU, I modified mine, cuz ya know, boobs. It worked out nicely since the "Y" in "NYU" is centered so that I could cut the V into the top of it. One of these also shows the Trans pride flag that I had for the march :-)
The march itself was fun, except for the beginning. We met at our staging area at 3:30 p.m. and didn't step off until 5:30 - it gets really hard standing around one area for 2 hours! But it was a lot of fun marching with NYU (this is the only year that I could do it as a current student, I didn't want to miss that). We had a couple of hundred people show up for our contingent (apparently about 1000 signed up, not all showed up of course).
I broke off at around 7:00 (we were a little more than 1/2 way done with the march). Pattaya (my friend who does drag, who used to let me guest perform at her shows all the time) was doing a show at Le Singe Vert that ended at 8, so I didn't want to miss it. The last picture is of the two of us :-)
So overall a good experience - I probably won't march again though, I'll just watch, it's more fun :-)  But this was the first Pride that I could do as physically a complete woman, so marching seemed right :-)  It also helped me overcome some of the ambivalence I have over identifying as transgender. When it came down to it, I marched carrying a trans pride flag, so clearly I'm ok identifying as such.
xoxo
Chrissy