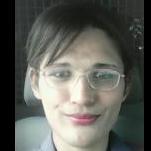 Good day all
Okay, don't be all flustered and think that it changed my attitude to the world, it didn't, I'm just pointing out what I did, and somehow I am still getting people following me and hitting on me.  What I did I don't actually know.  But this is the steps that I took.  Maybe it was a form of liberation, but it was definitely a way to say, look at me and be certain that I am human and not going anywhere.
In a recent Facebook entry I made I wrote:
My bio
* 36 years old
* police official with sergeant rank
* from South Africa, born and raised as a Capetonian, and lived for a while in Johannesburg before moving back
* 1.74m (5'8&1/4") tall
* 64kg (145Lbs)
* naturally dark brown hair, but currently dyed
* love; cars, sushi, pizza, salads, firearms (actually weapons), sleep, fighting styles (martial arts, boxing, kick boxing)
* no children, but also not planning on any in my near future
* Gender: transgender female (even if I'm intersex, just my gender identity still)
* Sexuality: Multiple classification (A-sexual and to a degree hetero sexual)
* marital : not married, and never planning to take that step.;=
* friends: usually close knit, and mixture between male and female
life goals : career and gender equality and understanding (transgender rights - activism), writing
This is but a small part of me and the rest I normally open up with as time goes by.  I hate dishonesty, but I know a white lie has its place and time.
Whomever has a problem with me being so frank about myself, they can up and delete themselves.
Oh, if I don't request to see you naked, it is clear I don't want to see you naked.  And my facebook is for the facilitation of platonic relationships, and that does mean that other things can come, but platonic it will be unless mutually agreed upon for something else.
I don't say, fear me, as I am human.  But I also don't say try to take me for a fool, because I will know and when I let the steam out to warn you enough is enough you definitely won't like me.  As nails, teeth, fangs (I've been asked if I had them put in to look like a vampire at times), fist, open hand, feet, knees, elbows, thighs, oh just my whole body will be used to throw that train off its tracks into a raging ocean.
My love for cars, doesn't mean I need to drive a V8 Ford Mustang, V10 Audi R8, Mercedes AMG (so many to choose C63 AMG would do).  So I drive what fits my personality and pocket, even if it doesn't look like a vehicle someone else would buy, don't try and influence me, you not my father who knew my likes and dislikes more, and also knew that I'm more of a head then heart purchaser.
Wheat I don in life I do to make me proud and that of what my father instilled in me.  To be true to myself, as I know he is watching his baby's every move.
This will upset some that I'm open about myself, but that clearly doesn't put others in my shoes, as mine is a unique size 6 just for me.
Ps.  I WOULD HAVE THOUGHT PEOPLE READ BIO's BEFORE SENDING REQUEST.  NOW THIS IS A POST INTRODUCTION, SEEING THAT SOME NEGLECTED TO ACTUALLY READ IT IF THEY HAVEN'T KNOWN THIS ABOUT ME.
In one I got 66 likes, and 42 positive answers, the other 30 likes and 3 comments that were positive.  I'm definitely not saying that any of you should be as blunt as me, because, I know that I am unique with similar experiences at different times, or just totally different experiences emphasizing my uniqueness.  But seeing that I'm not looking for a  relationship that is more then platonic, I thought this was a way to let the people around me understand that this is me, and gave them enough time to think about what I said and delete themselves from my profile.  I definitely don't have a problem facing the war head on, because that means the understanding of who we are, are just that much easier.  And coming from a person that isn't a high profile it amounts to a lot.  With that said, my profile increased with over 2000 people in the last 3 weeks, making me feel like it is the best time to start taking on the world on my profile to make them understand the truth.  I just haven't figured out how to properly introduce it to them, but I went to a 16 days of activism, which was directed more to the women and children, somehow the bullying part came in and they noticed that I'm not absentminded or even afraid, and I mentioned that I was bullied by my commander for being transgender, but they also knew that I am in the police as I was introduced on my rank.  I showed that I had to overcome adversity by striking back in the best way I knew how and the only way that the bully would stop, and they looked at me asking how someone that's in the police can be bullied is just wrong.  I had to say, bullies are everywhere, but I knew that my bully whom was much shorter and skinnier then myself was my bully.  And you would see that they take on strong people that doesn't like to react, because in this case she was trying to get me to physically assault her to work me out of the police.  Which I didn't fall for, so I hit her where it hurts the most, her pocket.
I wish you all a splendid week and yes, I am back at work and loving some of the time.  Others I just want to stink bomb some offices.  If I don't write something closer to Christmas, I wish you all a happy festive season, and love yourself, because that is the biggest gift you can give yourself, because not even GRS, HRT or any of the other surgeries are going to make you appreciate and love you, if you don't do it for yourself.  I might make you feel closer to human then what you are feeling, but it will never make you feel complete.
Love and Hugs
Michele