Social Media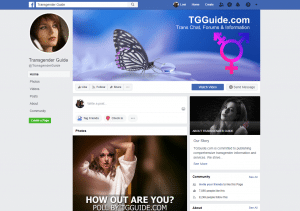 Social media outreach is important to us. Our goal is to make sure that anyone who needs transgender support or information can find it quickly online. Thus, we have active discussions going outside of this website. Join TGGuide on our Facebook page or on our Twitter page.  Member likes, follows, discussions and shares of our content are appreciated!
More Interactive Social Media Features of TGGuide.com
Trans Chat | Transgender Forum
Did you know that TGGuide has our own social media features? Check out our transgender chat and forums to browse member profiles, add friends, send private messages, share photos, join active discussions and more. The combination of Facebook, Twitter and the social features of TGGuide.com provide a truly interactive experience. Come explore your transgender journey with us to get the support you need.
Cannot call API for app 405460652816219 on behalf of user 10214907612434824
Our Story on Facebook
TGGuide.com provides a comprehensive guide to transgender information and services. We strive to represent the trans community in a positive manner. We would like to make you feel comfortable here and encourage your participation. TGGuide.com serves ALL who identify on the transgender continuum. Trans community friends and those wanting to learn more are welcome too. Are you transgender or questioning? We believe you are extraordinary and you are welcome here! Explore our Facebook page and website for more information, live chat, message forum and transgender resources.