Transgender Polls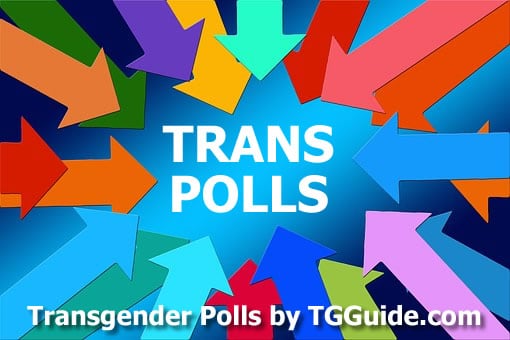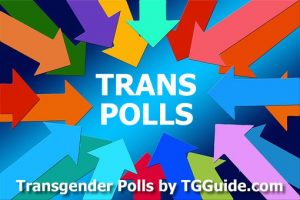 Transgender polls conducted by TGGuide.com are conducted to obtain information about our visitors and followers on social media. Polls allow us to understand our visitors better and provide useful content based on their needs. Through interactions and polls, we gain insight into the true thoughts and opinions of transgender people and allies.
Every Voice Is Heard!
Many people are hesitant to share their opinions on social media. We've all seen it. You post an opinion and suddenly find yourself under attack. Unfortunately, the vocal minority often have a way of taking over. We find that anonymous polls offer an effective way to gain an understanding of the true opinions of our trans community. This way every opinion has an opportunity to be heard.
Transgender Polls – Current and Completed
Transgender Women in Sports – This poll was conducted June 2019. The poll gauged the true opinions of transgender and cisgender allies regarding the hot button topic of trans women in sports.
How Out Are You As Trans? – The poll was conducted in July 2019. Our goal was to gain an understanding of the approximate distribution of visitors who are out vs closeted. This will, in turn, help identify the areas where we might offer assistance through content and support services. In the process, poll respondents provided helpful insight into barriers they have faced as a transgender person along with some great advice to their younger self.
Watch for more polls to be published soon!
Future Trans Polls to be Conducted
Transgender travel issues.
Dating as a transgender person.
Violence and bullying against trans people.
Corporate marketing to the trans community.
Medical care providers for trans patients.
Do you have an idea for a poll? Contact us on Facebook for the fastest response or you may reach us on our online contact form.
Privacy of Transgender Polls
No personally identifiable information is collected from participation in our polls. Participation in any poll is completely voluntary. You will not be placed on a mailing list or targeted for marketing. Information obtained will be used to create an article to outline the results of the poll. As such, individual text responses may be published to provide context.
---
Thank You!
Thank you to SurveyMonkey.com for helping make these polls possible. Our sincere gratitude goes out to everyone who participates in the polls.