Interview with Katie Glover
GS Ad Network and the Future of Transgender Marketing
A TGGuide Exclusive Interview with Katie Glover
"If you offer products or services for the transgender community, or have thought of doing so, then this will be must reading."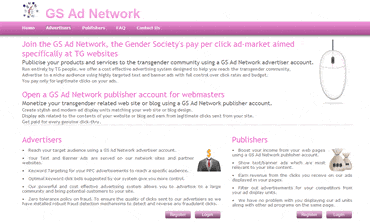 Lori Wynn's Intro: My friend Katie Glover has been very busy creating the GS Ad Network (GSAdNet) which focuses on the transgender marketplace on the Internet. This interview is to learn about online marketing for the transgender community and Katie's transgender ad network. You don't need to look far to see GSAdNet units displayed on this page. Look above for the banner ad and on the right sidebar to see text ad units from GSAdNet. Both are marked "GS Ad Network" in a black background. It took me just a few minutes to set them up and insert them here.
The transgender market on the Internet is rapidly growing and shows no signs of slowing down. If you offer products or services for the transgender community, or have thought of doing so, then this will be must reading. Let's begin our interview.
Thank you for taking the time to chat with us Katie. I have a few questions prepared and you can feel free to add more information as you see fit.
Lori: Katie, will you tell us a little about yourself and your connection to the transgender community?
Katie: I'm a card-carrying crossdresser and perhaps a bit more than that and I've been dressing since I was little. In 1999 I started an online community for transgender people (there wasn't much on the web for us girls at that time) and it snowballed into the community I still run today, The Gender Society http://gendersociety.com.
Lori: Will you tell us a little about your web background and other transgender web sites?
Katie: My first job out of college was working for an American company as a computer operator. That was in 1979 so I got the IT bug quite early on. I went on to become a COBOL programmer working on business software which was deadly dull and boring and then along came the web. The Gender Society has two other sites. One is an advertising network aimed exclusively at TG people http://gsadnet.com and the other is for Frock Magazine, our quarterly, glossy, transgender lifestyle magazine http://frockmagazine.com.
Lori: How big, in your estimation, is the transgender market online?
Katie: I have no idea but what I do know is that it's growing rapidly. Having been involved in the online TG world for well over a decade, I would estimate that as many as one in ten males has some TG tendencies. TG people seem to be everywhere now. I'm sure they were around before but the internet has brought them together and given them a home.
Lori: I agree completely. The Internet has opened our eyes to the large numbers of folks who relate to the transgender community in one way or another. The market is huge – much larger than previously believed (pre-Internet era) and that presents many opportunities.
Lori: Can you summarize what GSAdNet is all about in a few sentences?
Katie: It's a bit like Google Ad Words and Ad Sense but its run entirely by transgender people and it's aimed squarely at the transgender community. The web sites who publish our ads are all transgender sites of some kind. We have already knocked back several applicants whose sites were not TG enough. We need to ensure that our publishers fall within our niche area for their sake as well and ours. This is also good news for our advertisers, who want to target their ads at the the TG community. It's always hard starting a new venture like this so we have tried to ensure that our advertisers pay far less per click than they would if they were advertising with Google or another network. We take a smaller percentage too which means that our publishers can earn more.
Lori: I can say as an advertiser that GSAdNet is a highly cost effective way to reach the transgender community. I am able to reach my market for a fraction of the cost of Adwords and similar Pay Per Click (PPC) ad networks. GSAdNet also offers a way to earn money by inserting ad units on your transgender websites. For web publishers, it's a win-win situation where you add relevant content to your site and earn money at the same time!
Lori: What led you to start up GS Ad Network? How in the world did you come up with the idea?
Katie: We used to have Google AdSense ads on our TG community site and over time we noticed that the ads were becoming less and less relevant. Then one day we were only serving up public service ads and earning nothing. I contacted Google to ask if they had changed their policy regarding TG web sites but they denied any changes in what was basically just a canned reply. Nevertheless, their ads were not doing us any favors and when I discovered that many other TG sites were having similar problems, I decided to jump in and fill the gap. If Google didn't want to have anything to do with TG people, well we would be happy to take up where they left off. We spent ages having the software written and it cost a fortune (which I imagine will take some time for us to recoup).
Lori: You have identified a fantastic niche market!
Lori: What services do you provide for advertisers at GS Ad Network?
Katie: There are basically two sides to the network. The publishers and advertisers. Publishers are people who run TG related web sites and who open an account with us so they can display our ads and make some money. Advertisers are able to use the network to show their wares to a large number of people who are interested in TG things thus targeting their ads very accurately at the kind of people who are likely to be interested in what they have to offer.
Lori: What does it cost to start an advertiser account? Are there any minimum investments?
Katie: We've set the minimum amount at a paltry $10! That shouldn't break the bank.
Lori: Yeah, haha – try that at Adwords and see how far you get. Adwords has its place and I use them also, but in short time they put a big dent in the advertising budget.
Lori: What are some of the benefits for advertisers on the GS Ad Network?
Katie: We're cheaper than other networks by a long way and our ads are only displayed on transgender web sites so if you want to target your ads at the TG community, there is probably no better way. You can also target each ad geographically, so if you run a dressing service in Los Angeles, you may not want your ads shown outside the US. That's easy with our system. Just pick the countries you want or choose the whole world. It's up to you.
Lori: Is it very difficult to create ads to be placed on the GS Ad Network?
Katie: It's easy. Just a few mouse clicks and you're away. We also have live help available for much of each day.
Lori: And I appreciate the great support service. I can vouch for that statement.
Lori: How many sites do you have in the network currently displaying ads?
Katie: That's hard to say – it's also a trade secret but suffice to say that there's a good number and it's growing daily.
Lori: No complaints with the quality or quantity of my traffic. : )
Lori: If one wants to make money on their transgender site, they can create a publisher account and insert GS Ad Network ad units to start earning a passive income. What services do you provide for publishers? Does it cost anything to join?
Katie: It costs nothing to join and takes about a minute to open an account. Once your account has been approved you can start earning immediately. As soon as your ad units are appearing on your site you can just sit back and forget them until pay day. The trick is to position your ads in a very prominent place, near the top of the page if possible. If nobody can see the ads, they won't get clicked and you won't make and money so don't hide them. The destination sites open in new tabs or windows so you won't lose any visitors from your site either.
Lori: Is it difficult to set up the ad units on a publisher's site? Does one need to know any programming or heavy HTML?
Katie: You don't need to know any HTML. Our wizard does all that for you. You just copy and paste the code into your page in a prominent place and then upload your page to your server. Creating ad units is easy and we've even made a short video showing you step by step how to do it at http://gsadnet.com/new_ad_unit/new_ad_unit.html (be patient as it may take a while to load).
Lori: Is there any cost for publishers?
Katie: No, of course not – in fact we pay you!
Lori: How much do you pay per click received from a publisher's site?
Katie: We currently pay our publishers 60% of the amount spent by our advertisers. We use the other 40% to pay for the software, hosting, marketing and so on. We have not made a profit yet and probably won't for a long time. However, we are committed to giving our publishers a good incentive to stay with us. We also want our advertisers to succeed so they will return time and again.
Lori: What everyone probably wants to know — how do you pay for income they've earned?
Katie: When your account has a balance of $100 or more, you simply put in a payment request and we pay you via PayPal.
Lori: What countries do you currently accept into GS Ad Network?
Katie: All countries are welcome. The only proviso is that your site must be transgender related.
Lori: It must have been a lot of work to get GS Ad Network online. Was it all smooth going, and how are things now?
Katie: It was hard work and in the first couple of months we have had some teething problems with the software. However, we're over those problems now and looking at adding several new features to make the network even more attractive to both advertisers and publishers.
Lori: I especially like how easy it is to create various ad types such as textual ads and banners of all types and sizes.
Lori: What kind of feedback have you been getting from advertisers and publishers?
Katie: Generally good. As I said, we did have a few software hiccups but these are now fixed.
Lori: What can you tell us about the transgender market? How much disposable income do transgender folks tend to have? Do they make a lot of purchases online?
Katie: The transgender market is very difficult to pigeon hole. If you take another group, like say, students, you could say that most students have little disposable income and have to be careful about what they spend. That's an easy one. However, transgender people are from all walks of life, some rich, some poor, some in between. Therefore it's impossible to say how much disposable income they have. I know Gender Society members who are politicians, submarine commanders, high court judges and even radio and TV presenters. I also know members who are down and out and live in doorways.
As for purchasing online, I would say that the TG market is very difficult when it comes to converting surfers on your TG site to customers. The TG community has been fleeced by rogue online traders for many years now. They've been expected to pay high prices for shoddy goods and so many are reluctant to buy online at all or they at least think twice before doing so.
Lori: Yes – transgender customers can be difficult to convert, but they tend to be very loyal once they become satisfied with your products or services.
Lori: What advice would you offer to a web site owner who wants to increase their visibility in an increasingly competitive online environment.
Katie: Of course, I would suggest that they use our network to reach the kind of people who are most likely to want to buy their goods. I would also suggest that they think about other forms of advertising like an ad in Frock magazine and/or an advert on the Gender Society site. We currently have in excess of 3 million hits on the site each month. That's a around 200,000 page views, which is fairly impressive.
Lori: What advice would you offer to someone who wants to start their own web site offering products or services to the transgender community?
Katie: Be as honest as possible. You need to gain your visitor's trust before they will reach for their credit cards. And make sure you are not selling dross. There are sooooo many sites out there now, that sell the same old stuff. Why do they think that transgender people only want to wear sexy thigh boots with six inch killer heels?
Lori: Would you agree that the transgender market is one of the fastest growing segments in online commerce?
Katie: Yes, definitely. If we can regain the trust that has been lost over the years, it could be very, very lucrative. We need to give people what they want though, not what we want them to have. We need to ensure that we provide quality products and great after sales service at fair prices.
Lori: It's amazing that you use one of my favorite lines, "give customers what they want, not what you want them to have." I try to tell startup operators that, but they often get so focused on their idea that they totally miss their customers' needs and how to satisfy those needs.
Lori: How much growth potential do you see for the transgender market?
Katie: Over the next few years I think it will be huge. The internet has also empowered TG people who previously led very solitary lives. Our membership list grows a bit with every passing day.
Lori: How does one learn more about the GS Ad Network?
Katie: Easy – just go to http://gsadnetwork.com. To learn more about Frock magazine go to http://frockmagazine.com and to find out about The Gender Society, go to http://gendersociety.com.
Lori: It has been a pleasure getting to know you. Thanks for telling us more about GSAdNet and your other sites. On behalf of everyone at TGGuide.com, we wish you continued success.
Copyright by TGGuide.com. All rights are reserved. No portion of this article may be reprinted without express permission.
TRANSGENDER ARTICLE SUBMISSIONS: TGGuide is seeking writers for articles of interest to the transgender community. We will include information about the author along with links back to your web site. Please submit your articles to webmaster@tgguide.com.