Mara Keisling – Transgender Activist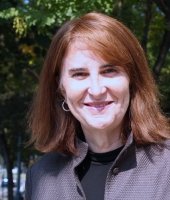 Mara Keisling was born a biological male, named Mark, on September 29th 1959. She is best known as the founding CEO of the National Center for Transgender Equality—NCTE. Her work has been widely renowned since she first founded NCTE in 2003 with a group of equally determined transgender activists. Since then, the site and the organization has growth exponentially.
In the mid 1990's Mara came out as transgender to family and friends, revealing she had felt as though she had been a woman since she was very young. The town Mara grew up in—Harrisburg, Pennsylvania—was large and intimidating and during junior high school years, Mark displayed reticence at his own gender appearance. He was shy "to the point where I feared giving a book report in front of the class", she said, years later.
However, politics beckoned when Mark joined the Model U.N. (United Nations) Club and slowly but surely he found his calling and his voice. He became more extrovert and outspoken and, when it came time to pursue a post-grad career he chosen American Government at Harvard University.
After revealing his feelings to his family, Mark became Mara and began the transition. It was soon after this that Mara became an activist, largely due to the obscene levels of discrimination within the transgender community. She realized that it affects transgender people on every level of their existence and speaking up, loudly, was the only way to make a change. She co-chaired the Pennsylvania Gender Rights Coalition and also served on the Statewide Pennsylvania Rights Coalition steering committee.
Her recognition of the need for a truly cohesive voice in Washington was the final straw in Mara's decision to found the NCTE—an organization designed to focus on the social justice and equality of transgender people and she was achieve this through advocacy, empowerment and collaboration.
Her work has been further boosted by the Obama administration, which has delivered big on promises to change hearts, minds and laws in favor of inclusion and equality for transgender people. In 2013, Social Security updated its policy to include transgender spouses and partners in the benefits structure—something many people thought might never happen.
Currently, Mara is still an activist because the journey is a long one. She writes for the Huffington Post on occasion and attended the North Carolina government buildings in 2016, after the passing of HB2—the anti LGBT law that reversed much of the good done by the federal government. She is not afraid to stand up for equality, she has proven she is happy to get arrested for her cause and she is continuing her outspoken work with NCTE on a daily basis. In many respects Mara Keisling is one of the original Transgender Pioneers.