Christine Jorgensen—The Pioneer Transsexual
Early Days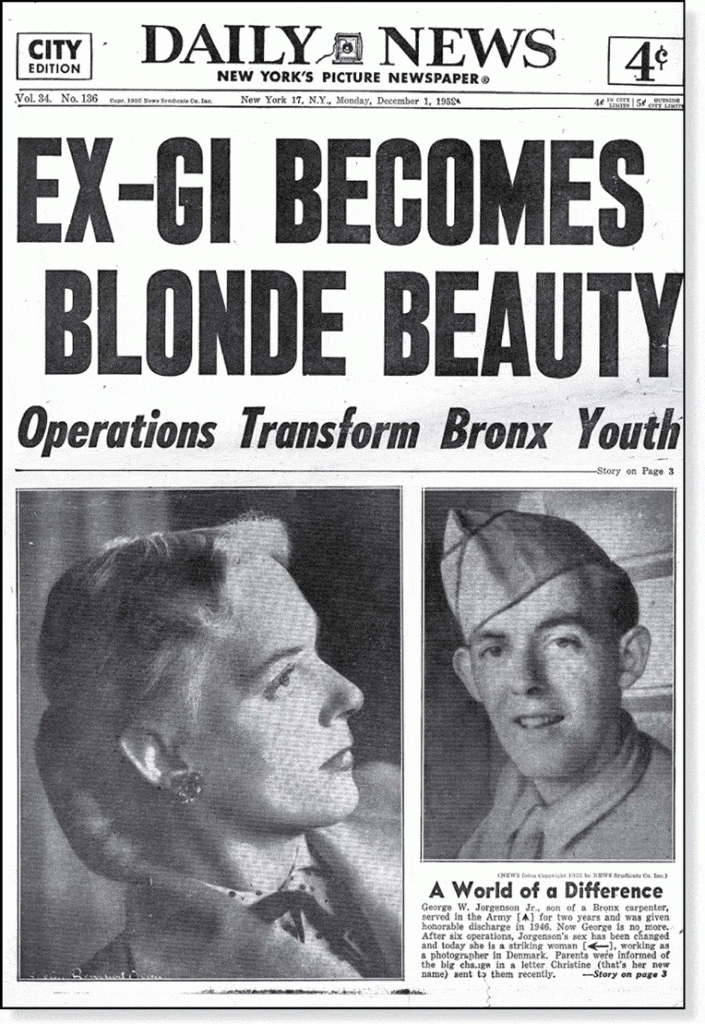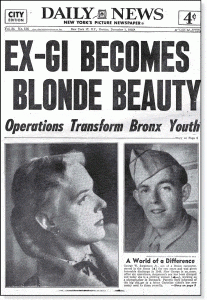 Ever since George William Jorgensen Jr. was born he felt different. He felt like he didn't belong in his own body and it was as though he ought to have been born a 'She'.  Because she was born in 1926, George was probably one of very few people who acknowledged their own difference even to themselves. Graduating from the Christopher Columbus High School, New York, in 1945 Jorgensen was drafted into the army.  Fortunately the Second World War was over, so Jorgensen didn't see a great deal of 'action' and returned after his discharge to attend the Mohawk College in New York.
After returning to the New York after his military service Jorgensen began to hear stories about new and progressive operations and surgeries; in particular 'sexual reassignment surgery'. However, none of this was available in the United States, so Jorgensen started taking females hormones and, with the assistance of Doctor Joseph Angelo, began researching the possibility of having the radical new surgery in another country. Initially, Jorgensen chose Sweden, having learned that the only doctors in the world who performed such surgeries were based there. However, having relatives in Copenhagen, where Jorgensen stopped on a visit en route to Sweden he met a Danish endocrinologist—Doctor Christian Hamburger—who helped Jorgensen begin a series of hormone replacement therapies. Prior to surgery Jorgensen had to obtain permission from the Minister of Justice in Denmark in order to have the operations.
At the Gentoffe Hospital on 24th September 1951 surgeons performed a bilateral orchiectomy on Jorgensen (complete removal of both testicles). Writing to his friends that he was in 'marvelous spirits,' Jorgensen had never been happier. It was one step closer to his ultimate goal of being a 'her'.  Remaining in Copenhagen, Jorgensen had her second operation in November of 1952, when surgeons performed a penectomy, removing Jorgensen's penis. After recovering sufficiently Jorgensen returned to the United States she made the headlines when the New York Daily News put her all over the front pages with the headline "Ex-GI Becomes Blonde Bombshell". Jorgensen, then named Christine—in honor of Christian Hamburger—became an instant celebrity, whether she wanted to or not.
Fame and Recognition
Her own story was published on February 13th 1953 in 'The American Weekly' and was titled 'The Story of my Life". This created the perfect public platform for Jorgensen, who went on to speak publicly about the plight of the transgender community.
Her operation to create a vagina—vaginoplasty—took place in the United States, after which Christine had planned to marry her then beau, John Traub. The engagement ended soon after, but she then met Howard J. Knox, announcing her engagement to him in 1959. Sadly, the couple couldn't obtain a legal marriage license so they called off the engagement. Shortly after that The New York Times reported that Knox had been fired from his typing job because the engagement went public.
In 1970 'The Christine Jorgensen Story' was released, with John Hansen playing the parts of both George and Christine. It received much critical acclaim but was widely received with more of a morbid curiosity from the general public. However, there is little doubt that it was also a gateway for other transsexuals to realize their own dreams. Her bravery and courage can never be disputed, because Jorgensen never hid herself. Right up until her passing, Jorgensen was a strong proponent of transgender rights and she spoke publicly at colleges, universities and other institutes as to the life of a transsexual and transgender person.