Transgender Guide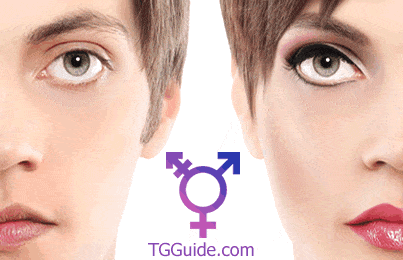 Welcome to the Transgender Guide (TGGuide)! We are inclusive for all trans people!  We provide the entire transgender community with quality information and resources. The Transgender Guide is committed to publishing comprehensive services for the trans community. We provide information to accurately represent the trans community in a positive manner. This includes transgender, trans, transsexuals, non-binary, crossdressers, intersexed and gender questioning. We welcome transitioning, pre-op, post-op, non-op trans people. Our members include male to female, female-to-male and gender fluid trans folks. Significant others, trans allies and caring professionals are quite welcome as well.
Be yourself and relax at TGGuide.com. We encourage you to become involved in our interactive transgender support and information site. We're non-judgmental and offer a safe zone where you can explore your gender identity. We encourage your feedback and want you to explore the site. TGGuide.com has one of the largest collections of informative texts on the web. If you're in need of support, browse our directory of transgender support groups in the United States.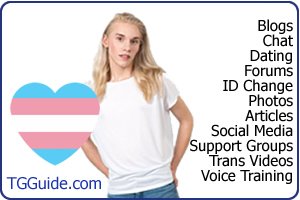 We can help to determine your size. Read our articles on coming out as trans to your family. Browse articles and resources to learn about how the law affects you. The answers are right here! Check out our transgender forum where you can engage in conversations with other trans women and men. Make new friends, get answers to your questions and engage in discussions. Then, check out our live transgender chat room. It is active 24/7. You can meet lots of friendly trans people and community friends. If you're active on social media be sure to follow us on Facebook and Twitter.
---
What's New at Transgender Guide
THINK BEFORE YOU SPREAD HATE MEME: Somone you know is trans…" Published September 3, 2019
COURAGE MEME: Courage is being yourself every day – In a world that tells you to be someone else." Published August 24, 2019
TRANSPHOBIA MEME: 'Transphobia is not fear… It is being an asshole.'  Published August 14, 2019
'HOW OUT ARE YOU' POLL RESULTS: How Out Are You poll results published July 13, 2019
'COMING OUT' ARTICLE: Trans Coming Out Success Story by Jaimi published July 8, 2019
TRANS WOMEN IN SPORTS POLL RESULTS: Trans Women in Sports poll results published July 2, 2019
FAMILY & SIGNIFICANT OTHERS ARTICLE: Diana Kelly, Author of "The Sky Turned Green & The Grass Turned Blue: Diane's Story" published June 28, 2019
---
Transgender Chat and Social Network
TRANS COMMUNITY & SUPPORT: We have thousands of profiles of transgender community members and friends. Transgender chat and social networking is a great way to explore your place in the transgender community. Come join us in a safe, welcoming environment and meet new friends! Come explore our trans chat rooms for various social, support and fantasy themes.
Social Networking for Transsexuals, Crossdressers, and Transgender Folks
---
Transgender Guide – New Promotional Video
Feel free to share this video on your social media pages or website. Please link to www.tgguide.com or our facebook page at  facebook.com/TransgenderGuide