Transgender Support Groups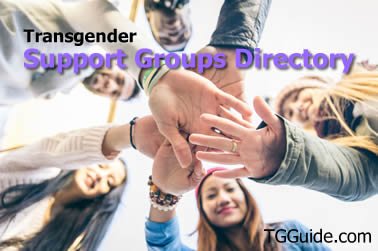 Transgender support groups come and go. We need your help to keep this directory up-to-date. Please submit transgender support group additions, deletions or updates by navigating to the appropriate page listed below. You may then add a comment to the page with your updates. You may also use our contact form or e-mail to webmaster@tgguide.com.
Benefits of Transgender Support Groups
Transgender support groups provide a safe and supportive place for those of us who are transgender or non-binary. This is a great way to connect with others who share a similar identity. Trans support groups offer a sense of community and can help trans people feel less isolated in their gender journey. Support groups also provide a place for people to discuss their struggles and challenges and share resources and advice.
Click any link below to see transgender support groups in that state or location. We list the most recently known name, address, telephone numbers and any other contact information. We recommend that you contact the groups in advance to ensure they still exist and they provide the services you need. Whenever they don't provide the services you are seeking, it may be helpful to request a referral. Oftentimes, support groups or services will be aware of others in your area and will be happy to make a referral.
Transgender Support Groups Directory
United States Transgender Support Groups Listings
Transgender Nightclubs and Bars Directory
A directory of transgender friendly nightclubs and bars locally for those who like to get out on the town to mingle. TGGuide TG Nightclubs Directory
---
Transgender people in crisis,
contact the following resources:
---
Who are Transgender Resource Groups for?
These transgender resource groups are for all trans people! This includes transgender, trans, transsexuals, non-binary, crossdressers, intersexed and gender questioning. We provide the entire transgender community with quality networking, information and resources. These trans resource groups may also be helpful to;  pre-op, post-op, non-op trans people.  These resource groups will include male to female, female-to-male, nonbinary and gender-fluid trans folks. Significant others, trans allies and caring professionals are quite welcome as well.
---
Transgender Dating: Meet local T-Girls & Admirers
– Local Transgender Personals –
Looking to meet transgender friends or lovers in your area? You'll find many local t-girls and admirers looking to connect with others for friendship and relationships. Our site is new but it already has more TG Personals than any other transgender personals site on the Internet. Place a FREE photo ad, get noticed, and let them come to you. Discover your special connection here! Using the internal mail system, you'll remain totally anonymous and discreet until you've met someone special and you're ready to reveal more about yourself. Join for free now!