Transgender Videos: Library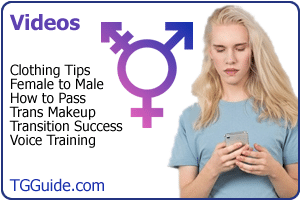 Transgender videos are a great way to learn about trans topics. We have compiled a library of transgender videos to provide help with both knowledge and inspiration. Sometimes a video conveys complicated trans topics much better than the written word ever can. Grab a cup of coffee, kick back and watch some trans videos. Check out the video topics below:
Transgender Clothing Tips Videos
Your choice of clothing as a trans person is likely to have a big impact on your ability to pass. Sometimes it's best not to call attention to yourself. Take a look at our clothing videos for trans people to learn the dos and don'ts that will help you pass more easily in public. We also have a guide on hosiery, shopping tips, MtF clothes, FtM clothes and general clothing tips. We'll take some of the mystery out of clothing for the daytime, for the evening and for nightlife.
Female to Male Videos
Our female to male transition videos touch on what to expect from hormone therapy, transition timelines documented on video, getting your first male haircut and discussion of binders. There are also videos on female to male gender reassignment surgery and some inspirational FtM transition successes. We include a discussion of how to pass for the trans men who are still working on passing in public.
Trans Makeup Tutorials
We've compiled videos to provide plenty of makeup tips for the male to female trans woman. You will find tips for the beginner seeking help with where to begin and what products to buy. You will also find more advanced makeup tips for looking glamorous for your nightlife activities. A common MtF topic is beard cover and we provide help for that problem. By using proper makeup techniques and products you can achieve a much more passable look. You'll also be more feminine and attractive as a woman.
MtF Transition Successes
Sometimes the best inspiration is to just see somebody who has gone through the process. You will see a variety of trans women who went from muscular jocks, or overweight, or tall to absolutely fabulous. You might not believe some of these MtF transition success stories if you didn't see their photo journal of their progress. Educating yourself, obtaining professional assistance when needed, and persistence will definitely pay off. In fact, you're going to see some before males you would never think could pass as women but now they pass virtually flawlessly.
Transgender Voice Training
Nothing beats professional voice training for transition, especially male to female transgender folks. However, the reality is that many of us can't afford professional training. What is a girl to do? We have compiled a set of transgender voice training videos for the MtF trans woman who wants to develop a passable female voice. It is not impossible. Not at all. As with most everything else when it comes to transition, persistence will pay off. These videos are likely to give you some ideas for developing your femme voice without the high cost of professional coaching.
---
Online Voice Training Lessons
*Another option for voice training is the online transgender voice lessons by Kathe Perez. Ms. Perez is the developer of the Internationally acclaimed Voice Feminization Program. Her program is now available as a 30 day Voice Feminization Boot Camp. There are five classes with live-streaming instructional and practice videos, downloadable notes and worksheets.