Transgender Fashion Report: Boots are Back in Style
Boots are back. It's that simple. But these aren't the same old boots you already have in your closet from yesteryear. And they certainly aren't boots reserved for snowy weather and slushy streets. Designers have modernized this fashionable fall footwear and the result is an exciting mix of heel heights, fabrics, details and colors. You'll look chic from top to toe whether you pair your new skinny jeans or '70s-print mod dress with a lovely lace-front boot or a slouchy style.
Our Favorite Boots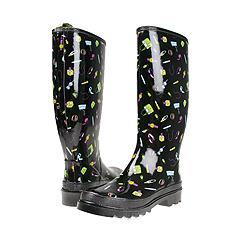 Flat Boots
Don't get nervous. Flat boots can be just as sexy and fashionable as high-heel boots. Besides, shown going down the runway in rich jewel tones of suede, leather and crocodile, this fall trend is going to be tough to ignore. Paired with skirts, dresses or pants — tucked in or left out — flat boots are the ultimate marriage of comfort and fashion. These Penny Loves Kenny suede slip-on flat boots ($88.95) will make you wish summer would end and fall would begin so you can wear them ASAP. Find these and other flattering styles at Zappos.com.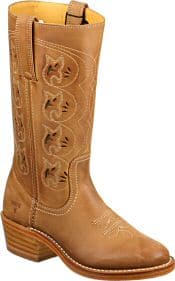 Western
A little bit of Daisy Duke and a little bit of cowgirl chic, western boots have made a huge comeback for fall. Pair them in all colors ranging from red to purple with a belted cardigan or sport them with a crisp white button-down and a wide belt. With the popularity of denim still at its peak, it shouldn't be tough to wrangle them into your wardrobe. These Justin original leather cowboy boots ($159) are truly wild west worthy. Giddyap your way to JildorShoes.com to round some up before they sell out.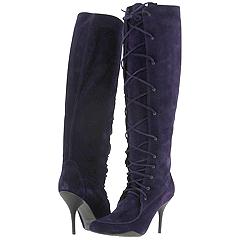 Lace-Ups
Tie 'em up or tie 'em down and around, lace-up boots were seen on nearly every runway for fall. They go hand in hand with the modern military look of coats and jackets, yet also lend themselves to the romantic Victorian-inspired style of blouses. Your Ugg boots will look even clunkier and more unfashionable than they ever did next to these sexy stunners. Wrap some boots like these suede KORS Michael Kors lace-ups ($365) around your gams and you'll never want to take them off. Pick out which color you want them in at Shopbop.com.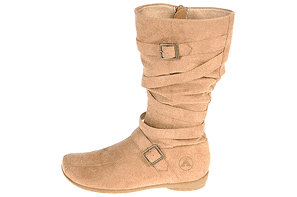 Diana's Pick of the Month
Strap sexy for under $25 (sizes up to 12 and black is available in wide width) Airwalk® Faux Suede Slouch Boot Keeping Up Appearances! Suedene upper zips up the side for a good fit. Manmade sole is flexible. Flat, slouch boot with multiple buckles on straps. Padded sock adds comfort in every step. 1/2″ heel height at Payless.com.
Transgender Fashion Boots in a nut shell
We're so in love with all of these boots! You will be too when you slide them on your feet and strut into work, the grocery store, your friend's house or a party wearing the latest in transgender fashion! Check out or next article Make-Up 101!
Published on TGGuide.com with express permission of the Author, Diana Montrose, who retains her copyright on this article in its entirety. This article and photographs may not be reprinted without permission.
ARTICLE SUBMISSIONS: TGGuide is seeking writers for articles of interest to the transgender community. We will include information about the author along with links back to your web site. Please submit your articles to webmaster@tgguide.com.