Selected Transgender Books
We have selected an assortment of transgender books. We will also be featuring specific books that we feel are especially useful.
Topics include cross-dressing, transsexuals, female to male, male to female, pre-op, post-op, non-op, children, parenting, significant others, legal issues and counseling. Feel free to browse our transgender book selections below and see our top list of recommended reading for the transgender community…(Links open in a new page).
MORE >>>
View Transgender Paperback/Hardback Books
---
TGGuide.com's – Top Selected Transgender Books
NEW YORK TIMES BESTSELLER
Becoming Nicole: The Transformation of an American Family…by Amy Ellis Nut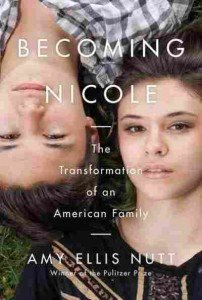 Based on the true story of identical twin boys, Wyatt and Jonas Maines, who were adopted at birth by ultra-conservative parents, in 1997. The twins grew up healthy & happy, and they were physically indistinguishable from one other, except for one tiny matter…
This story concentrates on the emotional journey the whole family had to take and the reassessment of strong held beliefs. Definitely worth a read for both a feel-good factor and educational reasons.
---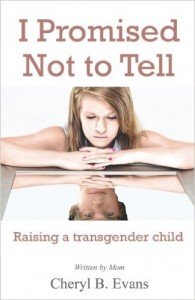 I Promised not to Tell: Raising a Transgender Child
by Cheryl B. Evans
Written by a mother of a transgender child, this books charts the journey of both, as they navigate their own experiences, feelings and ultimately the legal barriers. This is definitely a must-read book if you are a parent with a transgender child. The author, Cheryl B. Evans even concluded that she wasn't sure she should have written but, the book is testimony to relationship she has with her child and the power of love.
---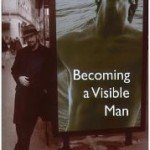 Becoming a Visible Man
 by Jamison Green
Written by a leading activist in the transgender movement, Becoming a Visible Man is an artful and compelling inquiry into the politics of gender. Jamison Green combines candid autobiography with informed analysis to offer unique insight into the multiple challenges of the female-to-male transsexual experience, ranging from encounters with prejudice and strained relationships with family to the development of an FTM community and the realities of surgical sex reassignment.
---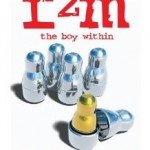 f2m: The Boy Within
 by Hazel Edwards and Ryan Kennedy
School-leaver Skye plays guitar in her all-female Chronic Cramps band. Making her name in the competitive punk/indie scene is easier than FTM (female to male) transitioning: from Skye to Finn, from girl to man. Uncovering genetic mysteries about family heritage tear the family apart. Trans gender identity is more than injections and surgery, it's about acceptance. Going public, Finn sings FTM lyrics on TV. With a little help from bemused mates and family who don't want to lose a daughter, but who love their teenager, Finn is transitioning.
---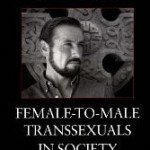 FTM: Female-to-Male Transsexuals in Society
 by Holly Devor
The author of the groundbreaking book Gender Blending here turns her attention to the little-known world of female-to-male transsexuals. Who are they? How do they come to know themselves as transsexual? What do they do about it? How do their families cope? Who loves them? What does it mean for the rest of us?
---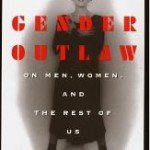 Gender Outlaw: On Men, Women and the Rest of Us
 by Kate Bornstein
Part coming-of-age story, part mind-altering manifesto on gender and sexuality, coming directly to you from the life experiences of a transsexual woman, Gender Outlaw breaks all the rules and leaves the reader forever changed. 26 black-and-white illustrations.
---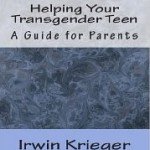 Helping Your Transgender Teen: A Guide for Parents
 by Irwin Krieger
If you are the parent of a transgender teen, this book will help you understand what your child is feeling and experiencing. Irwin Krieger is a clinical social worker with many years of experience helping transgender teens. This book brings you the insights gained from his work with these teenagers and their families.
---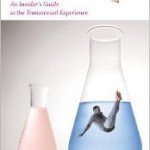 Just Add Hormones: An Insider's Guide to the Transsexual Experience
 by Matt Kailey
Matt Kailey lived as a straight woman for the first forty-two years of his life, and then he changed. With the help of a good therapist, chest surgery, and some strong doses of testosterone, Kailey began living life as the man he'd always wanted to be. In Just Add Hormones, he answers all the questions you've ever had about what it's like to live as a transsexual.
---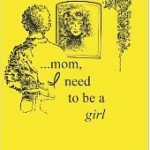 Mom I Need to be a Girl
 by Just Evelyn
This book, written by the single mother of a Transsexual teen-ager, is a true account of their experiences wending their way through the morass of roadblocks and confusion in seeking approval for the son to become the daughter she had always been meant to be. It describes clearly the troubles that the "system" deliver to maintain the status-quo, and the overwhelming drive needed by both the child and the parent in overcoming these burdens and achieving success. This should be required reading for any parent of a Transgendered person. The writing style is easy and familiar and will make for a "quick read," one you won't want to put down.
---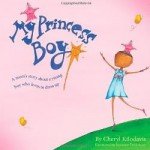 My Princess Boy
 by Cheryl Kilodavis and Suzanne DeSimone
Dyson loves the color pink and sparkly things. Sometimes he wears dresses, and sometimes he wears jeans. He likes to wear his princess tiara, even when climbing trees. He's a Princess Boy, and his family loves him exactly the way he is. Inspired by the author's son—and by the author's own initial struggles to understand his choices—this is a story about unconditional love and one remarkable family. It is also a call for tolerance and an end to bullying and judgments, and a loving reminder that the world is a brighter place when we accept people for who they are.
---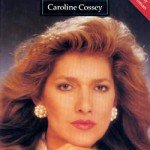 My Story
 by Caroline Cossey (Tula)
In 1989 Caroline Cossey, who was born male, made an appeal to the European Commission of Human Rights. She was fighting for the legal right to marry as a woman. The author tells of her childhood in Norfolk, the operations that liberated her sexually and her persecution by the tabloid press.
---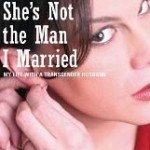 She's Not the Man I Married: My Life with a Transgender Husband
 by Helen Boyd
Helen Boyd's husband, who had long been open about being a cross-dresser, was considering living as a woman full time. Suddenly, Boyd was confronted with the reality of what it would mean if her husband were actually to become a woman — socially, legally, and medically. Would Boyd love and desire her partner the same way?
---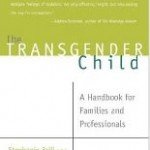 The Transgender Child: A Handbook for Families and Professionals
 by Stephanie A. Brill
This comprehensive first of its kind guidebook explores the unique challenges that thousands of families face every day raising their children in every city and state. Through extensive research and interviews, as well as years of experience working in the field, the authors cover gender variance from birth through college. What do you do when your toddler daughter's first sentence is that she's a boy? What will happen when your preschool son insists on wearing a dress to school? Is this ever just a phase? How can you explain this to your neighbors and family? How can parents advocate for their children in elementary schools? What are the current laws on the rights of transgender children? What do doctors specializing in gender variant children recommend? What do the therapists say? What advice do other families who have trans kids have? What about hormone blockers and surgery? What issues should your college-bound trans child be thinking about when selecting a school? How can I best raise my gender variant or transgender child with love and compassion, even when I barely understand the issues ahead of us? And what is gender, anyway? These questions and more are answered in this book offering a deeper understanding of gender variant and transgender children and teens.
---
The Transgender Guidebook: Keys to a Successful Transition
 by Anne L Boedecker PhD
The Transgender Guidebook: Keys to a Successful Transition is a self-help book for transsexuals. It is a wise and practical guide for any transgender person considering or embarking on a gender transition. It covers everything from the beginning stages of exploration and planning through the process of transformation to life after transition. This is the first book of its kind. There have been many books written by professionals for professionals about working with transgender people, and several written by transsexuals for transsexuals about their experience. This is the first one written by an experienced professional specifically for transgender clients. It will also be of interest to family, friends, allies, clergy, teachers, helping professionals and anyone who cares about the challenges faced by those who seek to have their physical appearance match their gender identity.
---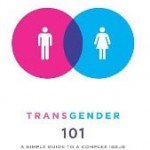 Transgender 101: A Simple Guide to a Complex Issue
 by Nicholas M Teich
Written by a social worker, popular educator, and member of the transgender community, this well-rounded resource combines an accessible portrait of transgenderism with a rich history of transgender life and its unique experiences of discrimination. Chapters introduce transgenderism and its psychological, physical, and social processes. They describe the coming out process and its effect on family and friends, the relationship between sexual orientation, and gender and the differences between transsexualism and lesser-known types of transgenderism. The volume covers the characteristics of Gender Identity Disorder/Gender Dysphoria and the development of the transgender movement. Each chapter explains how transgender individuals handle their gender identity, how others view it within the context of non-transgender society, and how the transitioning of genders is made possible. Featuring men who become women, women who become men, and those who live in between and beyond traditional classifications, this book is written for students, professionals, friends, and family members.
---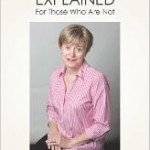 Transgender Explained For Those Who Are Not
 by Joanne Herman
Joanne Herman, a transgender woman who read everything in sight to understand her own gender incongruity, has been helping others with her non-complicated explanations of transgender for almost a decade. Now she has written down her explanations for all to read in Transgender Explained For Those Who Are Not. Organized by topic into short, easy-to-read chapters, Transgender Explained is perfect for parents, relatives, colleagues, friends, allies and even journalists who want to quickly get up to speed on what it means to be transgender.
---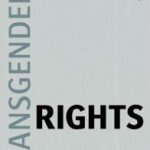 Transgender Rights
 by Paisley Currah
Over the past three decades, the transgender movement has gained visibility and achieved significant victories. Discrimination has been prohibited in several states, dozens of municipalities, and more than two hundred private companies, while hate crime laws in eight states have been amended to include gender identity. Yet prejudice and violence against transgender people remain all too common. With analysis from legal and policy experts, activists and advocates, Transgender Rights assesses the movement's achievements, challenges, and opportunities for future action. Examining crucial topics like family law, employment policies, public health, economics, and grassroots organizing, this groundbreaking book is an indispensable resource in the fight for the freedom and equality of those who cross gender boundaries. Moving beyond media representations to grapple with the real lives and issues of transgender people, Transgender Rights will launch a new moment for human rights activism in America.
---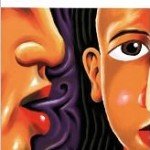 Transgender Voices: Beyond Women and Men
 by Lori B. Girshick and Jamison Green
In this extraordinary book, based on 150 in-depth interviews, Lori B. Girshick, a sociologist and social justice activist, brings together the voices of sex- and gender-diverse people who speak with absolute candor about their lives. Girshick presents transpeople speaking in their own voices about identity, coming out, passing, sexual orientation, relationship negotiations and the dynamics of attraction, homophobia (including internalized fears), and bullying. She exposes the guilt and the shame that "gender police" use in their attempts to exert control and points out the many ways transpeople are discriminated against in daily life, from filling out identification documents to gender-segregated bathrooms. By showing us a variety of descriptions of diverse real lives and providing a thorough exploration of the embodied experiences of gender variant people, Girshick demonstrates that there is nothing inherently binary about gender, and that the way each of us experiences our own gender is, in fact, normal and natural.
---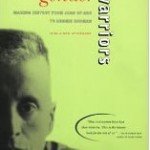 Transgender Warriors : Making History from Joan of Arc to Dennis Rodman
 by Leslie Feinberg
Leslie Feinberg has been a leader in the transgender rights movement as long as such a movement has existed. This book is both deeply personal and widely researched. Feinberg examines perceptions of the body, the status of clothing, and the structures of societies that welcome or are threatened by gender variance. The portrait gallery that closes the book contains photographs and capsule biographies of contemporary transgendered people.
---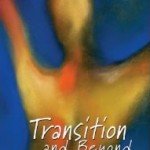 Transition and Beyond, Observations On Gender Identity
 by Reid Vanderbergh
First book of its kind in 20 years. This book has already been widely accepted and anticipated in the Transgender community and familys dealing with transgender issues. Written in an easy to read style, it addresses many issues faced by transgender individuals, their spouses/mates, and family members. Helps anyone seeking accurate information about what it means and doesn t mean to be transgender. Author Reid Vanderburgh brings a unique point of view to his writing as a licensed therapist and someone who transitioned female-to-male in the mid 1990 s. The book provides a point of reference for therapist with transitioning clients Topics include: Addiction and Transitioning; Workplace disclosure; What support looks like; Learning the rules of a new gender role; What does post Transition look like; Fundamentalist Transitioning.
---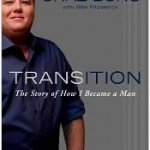 Transition: The Story of How I Became a Man
 by Chaz Bono
Chaz Bono's groundbreaking and candid account of a forty-year struggle to match his gender identity with his physical body and his transformation from female to male. At first, America knew the only child of Sonny and Cher as Chastity, the cherubic little girl who appeared on her parents' TV show. In later years, she became famous for coming out on a national stage, working with two major organizations toward LGBT (lesbian, gay, bisexual, transgender) rights and publishing two books. And just within the past eighteen months, Chaz Bono has entered the public consciousness as the most high-profile transgender person ever.
---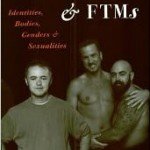 Transmen and FTMs: Identities, Bodies, Genders, and Sexualities
 by Jason Cromwell
Writing as an insider and an anthropologist, Jason Cromwell presents the first in-depth examination of what it means to be a female-bodied trans person. Through extensive participant observation and open-ended interviews, "Transmen and FTMs" allows female-to-male transsexuals to speak for themselves and reveal aspects of female gender diversity that do not fit into the ready-made categories of male and female.In clarifying how trans men and FTMs define and validate their lives, as opposed to how society attempts to pigeonhole and belittle them, Cromwell shows how female-to-male trans people have been made virtually invisible by male-dominated discourses. He considers cross-cultural data on female gender diversity, historical evidence of female-bodied people who have lived as men, and contemporary trans men and FTMs. He also addresses how FTMs and trans men are working to challenge the mental illness model of transness as well as other misconceptions. "Transmen and FTMs" seeks to reframe the dialogue about gender identity and move away from regarding fixed gender categories as normative. By redefining gender diversity from a manifestation of pathology to a human condition, "Transmen and FTMs" promotes a fuller understanding of these individuals as persons in their own right.
---
MORE: Transgender Books Directory